Unlimited Users
E-Signature Documents
ScanTime Storage

Unlimited timestamps included

Long Term Signature (PAdES)
SMS
Password Protected Documents
Internal Approval Workflows
Share Documents & Files
Create & Manage Templates
Document Tag Settings
Customized Branding

Logo and Email

WEB-API
Third Party Integration

Salesforce and GDrive

Multiple Teams
Customer Support
Onboarding Support
SignTime
Basic e-signature plan, perfect for those getting started with e-signatures
$78.00Monthly
$936.00 billed annually ($1,029.60 tax included)
$86.00Monthly
($94.60 tax included)
Unlimited Users

E-Signature Documents

ScanTime Storage


Unlimited timestamps included

Long Term Signature (PAdES)

$1.00

/ 1 PAdES

SMS

$0.20

/ 1 SMS

Password Protected Documents

Internal Approval Workflows

Share Documents & Files

Create & Manage Templates

Document Tag Settings

Customized Branding

Logo and Email

WEB-API

Third Party Integration

Salesforce and GDrive

Multiple Teams

Customer Support

Email

Onboarding Support

As per request
ScanTime
Electronic storage for scanned documents compliant with Japan regulation "Scanner Hozon"
$89.00Monthly
$1,068.00 billed annually ($1174.80 tax included)
$98.00Monthly
($107.80 tax included)
Unlimited Users

E-Signature Documents

ScanTime Storage


Unlimited timestamps included

Long Term Signature (PAdES)

SMS

Password Protected Documents

Internal Approval Workflows

Share Documents & Files

Create & Manage Templates

Document Tag Settings

Customized Branding

Logo and Email

WEB-API

Third Party Integration

Salesforce and GDrive

Multiple Teams

Customer Support

Email

Onboarding Support

As per request
PrimeTime
Customized branding using your company's domain, combining SignTime and ScanTime services
from$499.00Monthly
Please contact us
Unlimited Users

E-Signature Documents

ScanTime Storage


Unlimited timestamps included

Long Term Signature (PAdES)

Free

SMS

Free

(Up to 200 SMS)

Password Protected Documents

Internal Approval Workflows

Share Documents & Files

Create & Manage Templates

Document Tag Settings

Customized Branding

Logo and Email

WEB-API

Third Party Integration

Salesforce and GDrive

Multiple Teams

Customer Support

Email

Onboarding Support

100,000円


One time payment
*Contract period: 1 year (automatic renewals on a yearly basis)
*Read more details in our Terms of Service.
*Additional documents for the month can be purchased for $2.00 per document.
Getting Started
For some reason, many e-signature plans treat users like fruit, with short term trials before the trial plan expires. With SignTime, our free e-signature plan goes until you've sent 25 documents.
To Start the Free Otameshi Plan...you know what to do. [START]
Enter your email address and name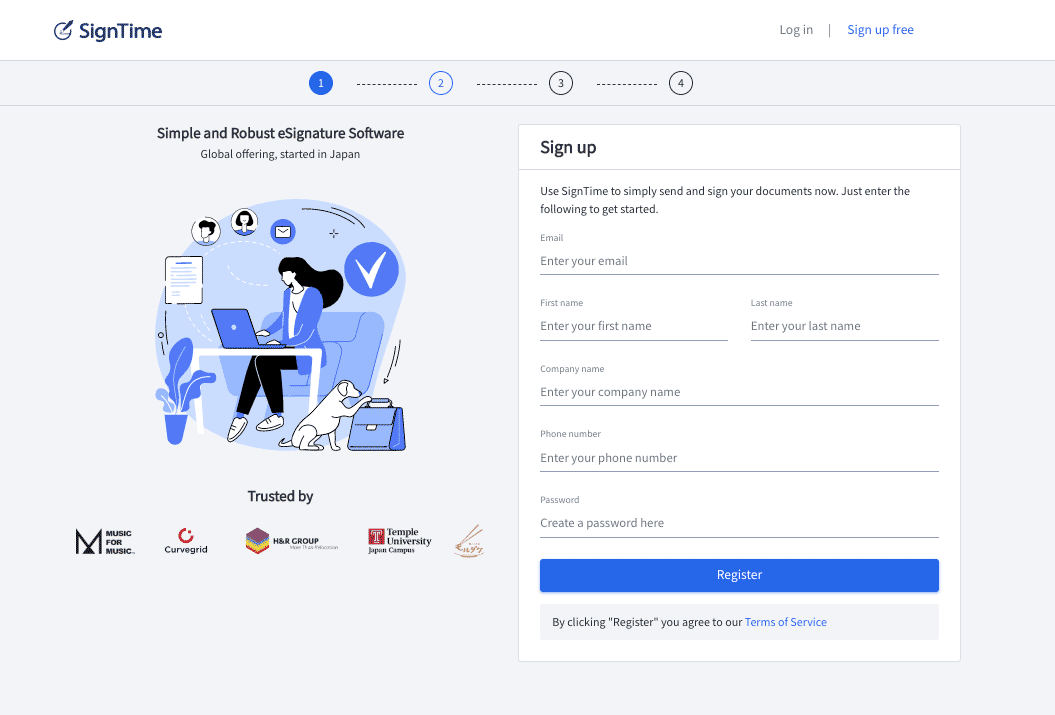 You will get an activation email with a button and a hyperlink. Click either one to validate your address and start e-signing at SignTime!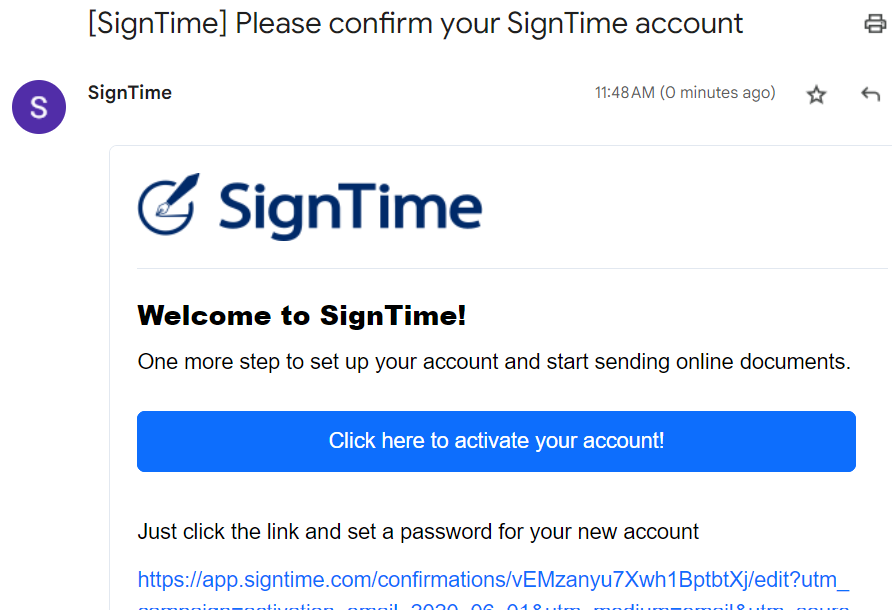 SignTime e-signature powers have been activated! Start using your account! Send documents now, ask us how!
After you finish the free trial, we have many wonderful plans which can accommodate you.
And of course, if you know you need more than 25 documents, you can get started now with one of our most excellent e-signature plans!
Free Plan
We don't need no stinkin' time limits!
25 documents for e-signature are incluced in the Free plan.