Unleashing Efficiency with SignTime: How Aic Corporation Revolutionized Their Business Processes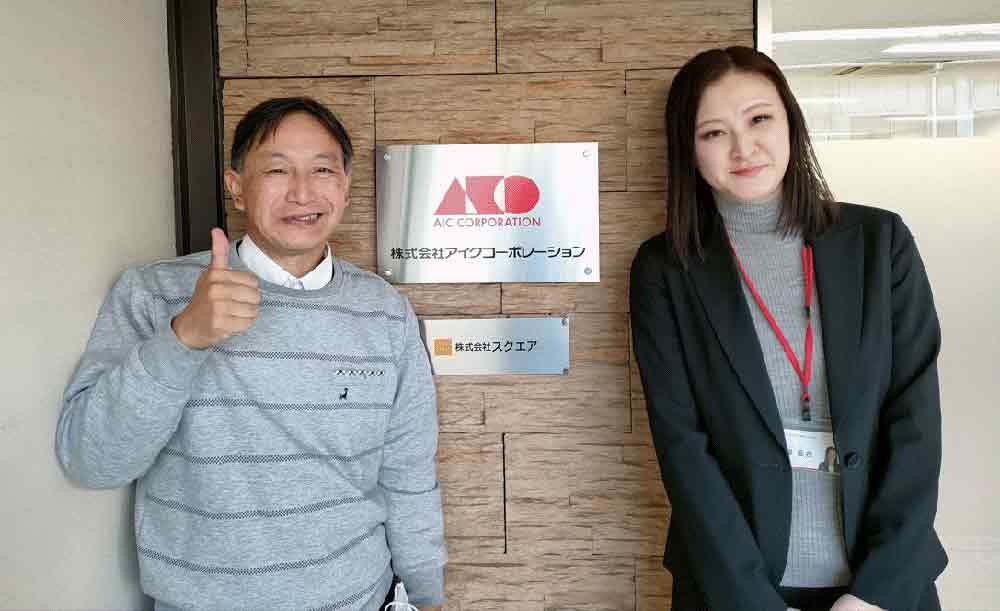 AIC corporation
Interviewee
General Affairs Department, Mr. Sunamoto
In their quest to optimize data management and streamline workflow, Aic Corporation, burdened by the clunky process of handling handwritten contracts, found their solution in SignTime. We dive into their experience of integrating SignTime, how it transformed their operations, and the distinctive benefits of going paperless.
Industry

Media
Number of Employees

Medium
Pain Points

Time Consumption、Want to get rid of paper documents
Before implementing SignTime, Aic Corporation was heavily reliant on manual data entry, translating handwritten contracts into the company's management system. This method was not just tedious, but also prone to errors. Moreover, the management of paper documents was time-consuming, and any cross-branch exchanges, including invoices, required a burdensome process of printing, stamping, and emailing.
The integration of SignTime streamlined contract signing, saving Aic Corporation an estimated 2-3 days of work per month. The transition to electronic contracts has proved legal validity and secured data storage for over a decade through the use of long-term signatures, ensuring a smoother workflow from document preparation to data storage.
Aic Corporation: A Brief Overview
Aic Corporation, celebrating its 40th anniversary in 2023, began as a used car information telephone service in Matsuyama. Now, their main business is publishing, operating various magazines and websites offering a wide range of information from automobiles to lifestyle and real estate.

Going Paperless with SignTime
Prior to SignTime's integration, Aic Corporation grappled with cumbersome paper-based processes. Invoices and other documents requiring internal confirmation needed to be printed, scanned, and attached by e-mail, leading to a convoluted approval process. The quest for operational efficiency led them to SignTime, an electronic contract service that enabled them to go paperless and centralize the entire contract process digitally.
Why SignTime?
When choosing an electronic contracting service, Aic Corporation prioritized three specific features: compliance with the Electronic Bookkeeping Act, API integration with their order management system, and the ability to send contracts via SMS. SignTime fulfilled all these requirements, making it the perfect solution for the company's unique business needs.
The SignTime Difference: Startup Flexibility
Besides its features, SignTime's proactive attitude in responding to Aic Corporation's needs was pivotal in their decision. The startup was open to discussions, transparent, and flexible, creating a strong foundation for future collaboration.

Easy Integration, Streamlined Workflow
Despite initial concerns about employee backlash against new systems, SignTime's intuitive management screen and straightforward operation have been well received. The platform quickly became popular within the business units, making the transition smoother than anticipated.
Reducing Man-hours, Increasing Efficiency with SignTime
Since integrating SignTime, Aic Corporation has seen significant labor savings, not only in eliminating data entry from paper contracts, but also in reducing time spent on confirmation processes. Now, all data is centrally managed in the cloud, eliminating the need for cross-checking and data linking.
Future Enhancements: What to Expect from SignTime
As Aic Corporation continues to broaden their usage of SignTime, they hope to see more flexibility in system workflows and customization features. They look forward to a long-term relationship with SignTime, as the company continues to evolve and enhance their services based on user needs.
| | |
| --- | --- |
| Company Name | AIC corporation |
| Industry | Media |
| Company Profile | Publishing Business, Content Business, ICT Solution Business |
| Number of Employees | Medium |
| Number of Contracts Used | Approximately 250 documents per month |
| URL | https://www.aic.co.jp/ |