C.S.I. Thailand recommends SignTime for its easy-to-use interface and quick and knowledgeable Customer Support Team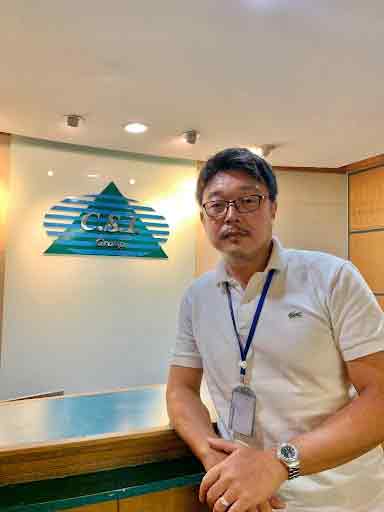 C.S.I. Thailand
Interviewee
Sales Group Manager | Mr. Otomo
Industry

Software development
Number of Employees

Medium
Pain Points

Burdensome to complete、Cost Consumption、Time Consumption、Wants to centrally manage all documents
C.S.I. Thailand needed to sign consent forms and other documents related to personal information with employees, and traditional paper-based procedures were not keeping up with the needs of the company.
Mr. Otomo needed an easy-to-use platform that could be integrated into his system
The internal approval process, as well as contracts with employees and customers, were all paper-based, making the process cumbersome and frequently resulting in delays in contracts and approvals.
The mass launch function enables sending contracts to hundreds of people at once, improving operational efficiency.
SignTime could be quickly operated and introduced smoothly without special training.
The internal approval flow can now be done in one day, which used to take two weeks.

Why SignTime?
The implementation of the Personal Information Protection Law in Thailand triggered C.S.I. Thailand to consider the introduction of an e-signature service. SignTime met all of their requirements. In addition to compliance with the Personal Information Protection Law, the change from paper to digital contracts has significantly improved operational efficiency and shortened the time required to conclude contracts. We asked Mr. Otomo, who implemented the change to SignTime internally, about why he chose SignTime and how that decision has affected C.S.I Thailand.
C.S.I. Thailand: An IT solutions and business consulting company
C.S.I. Thailand provides system development, IT solutions, and related services. Their clientele consists mainly of Japanese companies doing business in Thailand. The company was established in 1991 and is the longest-operating Japanese systems integration (SI) company in Thailand, with 300 engineers on staff. Their main business is "tailor-made system development1": they propose business application systems to their clients and develop them from scratch2.
"We have built systems for a wide variety of industries and applications, including personnel and payroll management and factory production line automation. One of our strengths is that we have more than 20 locally hired Japanese employees who are well-versed in Thai business practices. Our Japanese employees, fluent in Japanese, Thai, and English, carefully listen to the client's business issues and ensure that they are passed on to our Thai engineers to prevent misunderstandings and guarantee a smooth project and development process."
In addition to tailor-made development, C.S.I. Thailand also provides sales and implementation support for packaged systems including accounting and production management for customers who wish to reduce development costs or deliver early. As an independent SI company, they are not tied to a specific manufacturer and can provide the best products to solve their clients' issues. C.S.I. Thailand employees coordinators with expertise in each industry, Japanese staff, and talented Thai engineers who work together to propose systems that meet the client's objectives at their desired price point.

1 Tailor-made system development refers to building business applications used in a company from scratch.2 Scratch refers to developing systems and software without using packaged products, source code from other software, or templates (from the IT Dictionary "e-Words").
C.S.I Thailand chose SignTime for our high quality of customer service, compatibility with other systems, and cost performance
One reason C.S.I Thailand was looking for an e-signature service is that the Personal Information Protection Act will be enforced in Thailand from June 2022. They needed to sign agreements with their employees regarding personal information and were finding it difficult to keep up with the conventional paper-based contracting procedures.
At that time, an acquaintance introduced Mr. Otomo to SignTime.
"In selecting a digital contracting service, we compared the usability of several services, including a major global company and a local Thai company, by using their free trials. In the end, we chose SignTime because it was superior to other companies in three ways. First, they listened carefully to our requests for functional improvements and customization and then responded quickly and flexibly. Second, it was easy to integrate their APIs with other systems. We believe that SignTime's simple functionality will make it easy to integrate with other systems when we propose using digital contracts to our customers in the future. Third, the cost performance is excellent."
The transition from paper-based contracts to SignTime smoothed out stalled operations and increased efficiency
Prior to the introduction of SignTime, the internal approval process and contracts with employees and customers were all on paper, which made work complicated and frequently resulted in delays in contracts and approvals. With the increase in remote work due to the pandemic, C.S.I. Thailand needed some process improvements. Work has now become more efficient and smooth thanks to the introduction of SignTime.
"One feature that we find particularly useful is the ability to send all the documents at once. Instead of having to send each contract to our employees one at a time, we can send it to all 300 of them at once. When we used to send the documents by paper, it was very time-consuming for the human resources staff to check each contract to see who had or had not sent it back to us."
With remote work, SignTime's digital contract system drastically reduces the time it takes for project approval
One of the challenges before implementing SignTime was to speed up the internal approval process. Over hundreds of projects on hand C.S.I. Thailand taking care in each month, Engineers need to apply registration to these projects, and then management needs to approve their application. Engineers need to apply to these projects, and then management needs to approve their application.
"SignTime has significantly shortened the time required for approval, allowing us to complete the approval process in a single day."
SignTime has also been very effective in helping C.S.I. Thailand remain compliant with the recent Personal Information Protection Act, which was the main reason for introducing SignTime. As with Japan's Electronic Signature Act, this new Thai law makes it important to keep a record of who signed a form and when.
"SignTime is playing an important role in helping us comply with the new law, as it keeps a proper history of who has signed a document and when."
Thai users were able to use SignTime immediately thanks to the simple interface
"When we introduced SignTime, we were a little concerned about whether our employees would be able to operate it smoothly, and we thought it would take time to teach them how to use it. However, SignTime's functions and specifications are so intuitive that there was no need to provide employees with special training opportunities. The Thai users started using SignTime spontaneously and quickly became accustomed to its operation. When they did have questions about how to use SignTime, they directly contacted the SignTime support team, which was very helpful during the implementation phase."
The Thai users found the SignTime Customer Support Team very helpful during the implementation phase. SignTime has a free trial period, which allows you to test our services before you spend any money. When introducing SignTime, Mr. Otomo recommends that you first try using it for internal payments and approval processes during the trial period. After you become familiar with its operation and understand its functions and convenience, Mr. Otomo believes it will be easier to communicate the benefits of digital contracts to your clients.
Since digital contracting is not yet popular in Thailand, C.S.I. Thailand felt that it would be easier for their clients to accept digital contracts using SignTime if they had a clear understanding of its advantages. This was all possible during the free trial period. Mr. Otomo recommends Japanese companies follow the same procedure to get employees and clients acquainted with e-signatures.
SignTime is user-friendly and easy to integrate with other systems
"Currently, we are receiving a great number of inquiries from customers who want to be introduced to digital contracting services or who want to link their existing in-house systems with an e-signature service. When we receive such inquiries, we often suggest SignTime. SignTime only has the functions of an e-signature service, which makes its operation simple and easy to integrate with any system. Since we provide tailor-made software, it is easier and more convenient for us to propose a service that specializes in a single field to our customers. We would recommend SignTime to our own customers."
C.S.I. Thailand is currently considering simplifying the SignTime API integration procedure so that they can integrate SignTime with their services and offer it to their customers in the future.
"We are also very confident in introducing SignTime to our customers because of its excellent support system. We look forward to their flexible and prompt response to user feedback long into the future."
Company Name
                       
C.S.I. Thailand
Industry
Software development
Company Profile
C.S.I. Thailand
Industry|Software and systems development
Company Profile|C.S.I Thailand is the largest and longest operating independent Japanese "SIer" (system integrator) company in Thailand. It mainly works with Japanese clients in the manufacturing, logistics, and financial industries. C.S.I. Thailand provides unique solution systems that address the specific problems of its customers, sales and implementation support for various package systems, and business development consulting services.
Plan | Premium plan


Number of Employees
Medium
Number of Contracts Used
400/year
URL
https://csigroups.azurewebsites.net/ja/