SignTime kills off the fax machine in the Japanese restaurant industry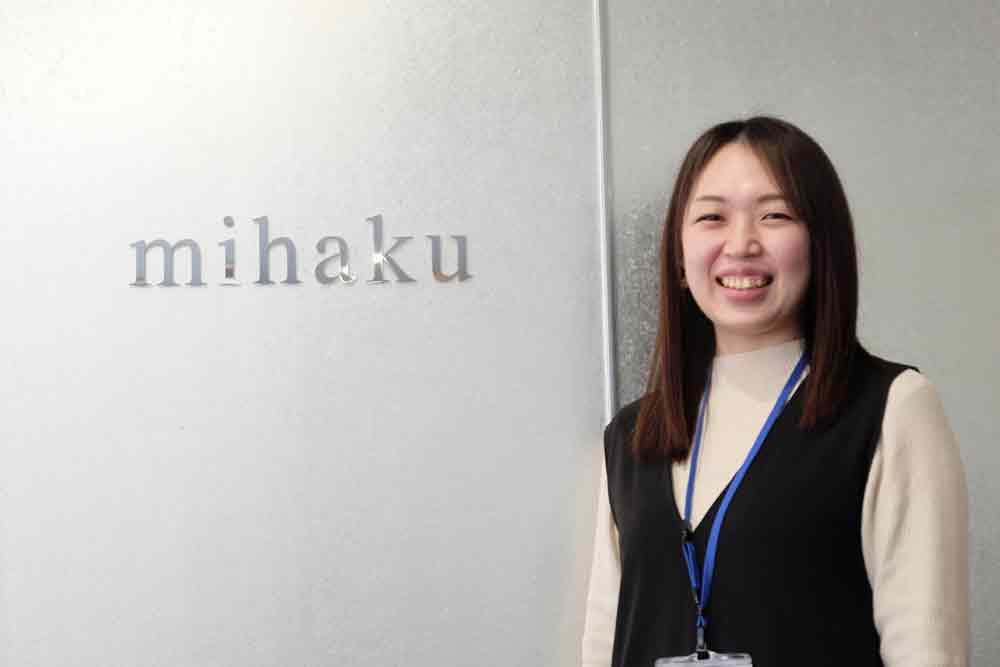 Mihaku

Interviewee
Ms. Chihiro Yonaga
We sat down with head Concierge - Ms. Chihiro Yonaga - from the Mihaku restaurant group, to find out how SignTime has helped improve efficiency, and the workplace environment, in this leading dining institution.
Industry

Restaurant&Food wholesaler
Number of Employees

Medium
Pain Points

Burdensome to complete、Time Consumption
・Reservation confirmations were exchanged with customers by fax and e-mail
・Concierge's paperwork, printing, and sending was time-consuming
・Took too long to conclude the contract/reservations for large groups

・The ability to send emails/SMS has sped up the process of contract signing
・The easy-to-understand User Interface (UI) has made it possible to exchange reservation confirmation slips without burdening customers, leading to improved service
・SignTime has cut person-hours required by 50%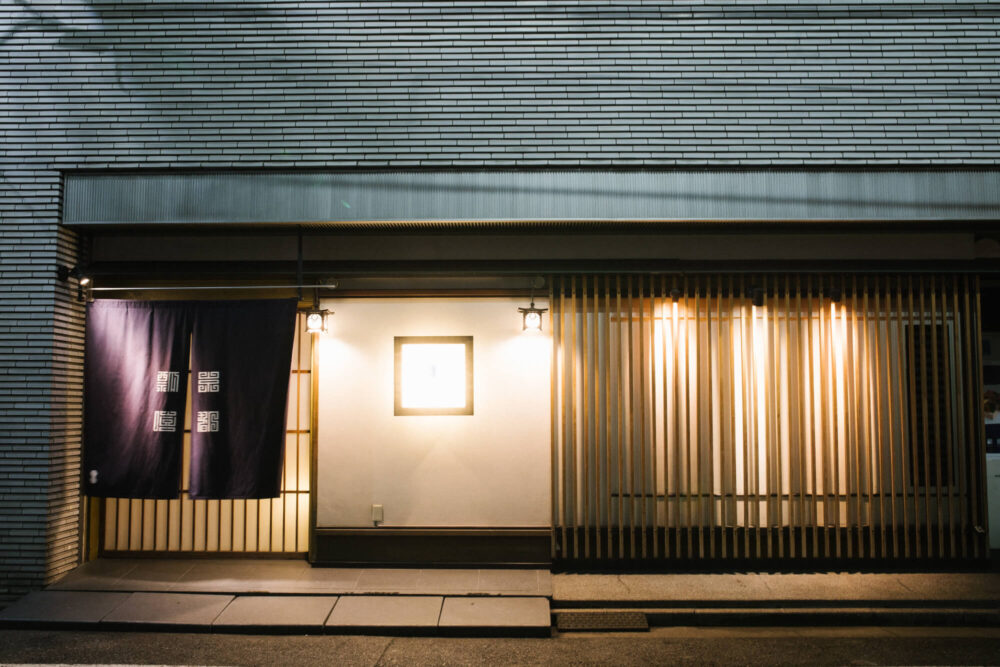 With a focus on Japanese cuisine and shabu-shabu, the company currently operates a premium chain of "Kyoto Hyouto", "KosoTei", and "Kyoto Hyohgei" restaurants in Kyoto, Tokyo, and Beijing. Mihaku is also a highly regarded pioneer in the Japanese food industry, working on various "work style reforms" to retain staff and provide a great workplace environment for its workforce. The company has 70 employees and 300 part-time workers and needs to conclude thousands of contracts each year for large group bookings. In addition to doing their best to provide "Omotenashi" (excellent hospitality and mindful service) to their customers, Mihaku also puts a high premium on providing an excellent workplace for their workforce, in the highly competitive restaurant industry.
The company chose to implement SignTime in a unique and innovative way – to automate its reservation system – and has been impressed with SignTimes's cost performance and the time savings the business has achieved with the new system.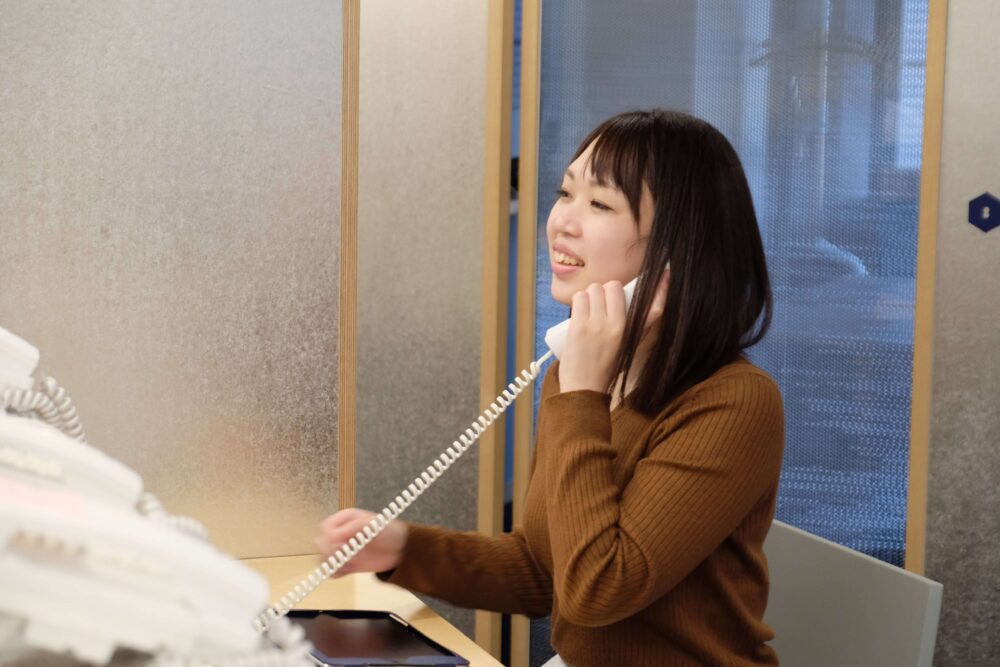 "When we receive reservations for more than 10 people, we send a 'Reservation Confirmation Form' to confirm the details of the reservation with the customer. Prior to the introduction of SignTime, we exchanged reservation confirmations on paper and asked customers to send and receive faxes," Ms. Yonaga says.
When exchanging paper reservation confirmation sheets, Ms. Yonaga says, it was time-consuming to enter the necessary information on each sheet of paper, create and print it, and send it by fax. Similarly, customers who received faxes had to fill out a form and fax it back to the company.
"We decided to introduce SignTime with a view to improving the efficiency of reception work for telephone reservations and providing better service to our customers. We needed to digitize and streamline our procedures without changing the content and workflow of our paper-based operations as much as possible." Deploying SignTime allowed Mihaku to keep many of their standard contacts and forms, and digitize and automate the entire process.
"The introduction of SignTime as part of our digital transformation process has cut the number of man-hours in half and helped solve lots of problems with the large group reservation system," says Ms. Yonaga. "The Concierge team are now also able to send reservation confirmation slips from anywhere via SMS or e-mail, which has reduced the amount of time spent on paperwork, printing, and faxing. Customers can now confirm communications received via smartphones and other devices, and can easily conclude documents by simply clicking on the received email and entering the date, signature, and other information. The return of documents can also be handled smoothly and hassle-free."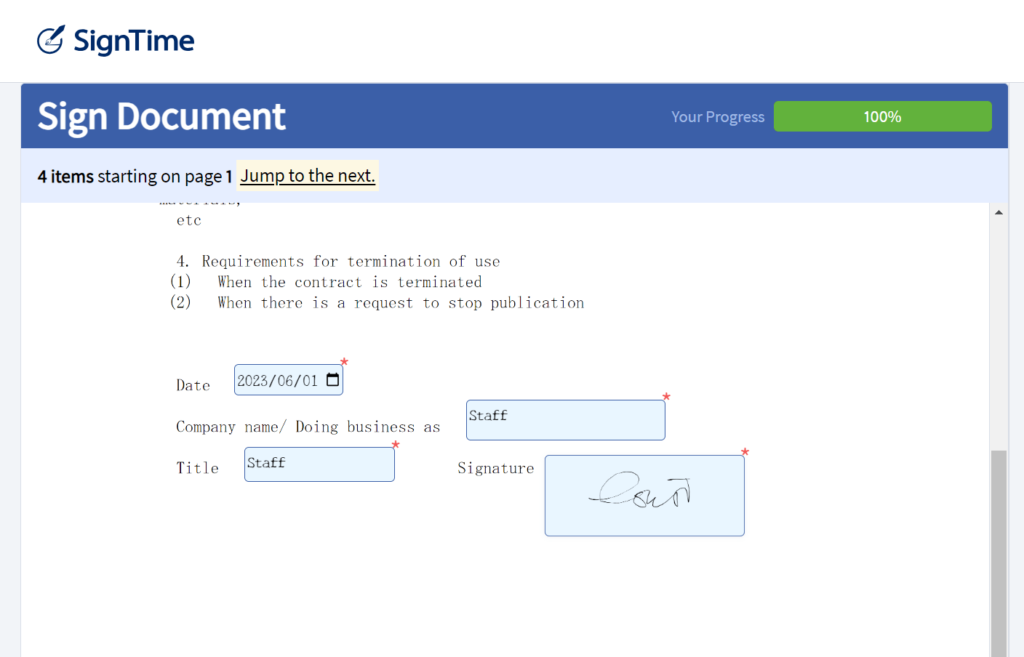 "During the busy season, we generate more than 10 reservation confirmations per day. So reducing the time per case was an important issue for us."
Ms. Yonaga says that the ease of use of SignTime was also very attractive, as documents that are used repeatedly can be easily sent using the Template feature. With paper-based systems, it used to take more than 10 minutes to input and send one contract, but with the introduction of SignTime, the response time has been reduced to less than 5 minutes, greatly reducing workload.
Cost performance and ease of use were also major decision factors for Mihaku. Says Ms. Yonaga: "The pricing plan, which includes a free number of transmittals for each plan, matched our expected usage pattern and was a big deciding factor in our decision to adopt SignTime. Additionally, one of our biggest concerns before introducing the system was whether our customers, many of whom are elderly, would have any problem using SignTime. Once we actually implemented the system, there have been almost no complaints or confusion," said Ms. Yonaga. "We are very happy with SignTime – it has allowed us to put our focus where it matters the most – making sure our customers have a great dining experience when they are with us."
| | |
| --- | --- |
| Company Name | Mihaku |
| Industry | Restaurant&Food wholesaler |
| Company Profile | With a focus on Japanese cuisine and shabu-shabu, the company currently operates a premium chain of "Kyoto Hyouto", "KosoTei", and "Kyoto Hyohgei" restaurants in Kyoto, Tokyo, and Beijing. Mihaku is also a highly regarded pioneer in the Japanese food industry, working on various "work style reforms" to retain staff and provide a great workplace environment for its workforce. |
| Number of Employees | Medium |
| Number of Contracts Used | 250-300/month |
| URL | https://mihaku.jp/ |