Miyazaki City in Miyazaki Prefecture and SignTime Signed Agreement to Promote "Electronic Contract Adoption"
Promoting Miyazaki City's DX Initiatives and Electronic Contract Adoption to Support Business Efficiency Improvement and Service Enhancement.
※This article is an automatic translation of the Japanese press release.
Miyazaki City is advancing its DX (Digital Transformation) initiatives and the adoption of electronic contracts to enhance operational efficiency and service quality. SignTime k.k. (Headquarters: Tokyo Minato-ku, CEO: Jim Wiser) has entered into an agreement titled "Promotion of Electronic Contract Adoption" with the Miyazaki City Hall in Miyazaki Prefecture, led by Mayor Tomonori Kiyoyama.
In April 2022, Miyazaki City established a DX Promotion Office and has been working on the digitization of various services. By introducing SignTime as the officially endorsed electronic contract service provider, they aim to significantly streamline contract processes that were previously conducted with paper documents or in-person meetings. This includes improving efficiency and reducing costs for contractors involved in construction projects and other various contract scenarios with the city. This initiative not only eases the workload for city employees but also supports the advancement of Miyazaki City's DX initiatives and service quality improvement.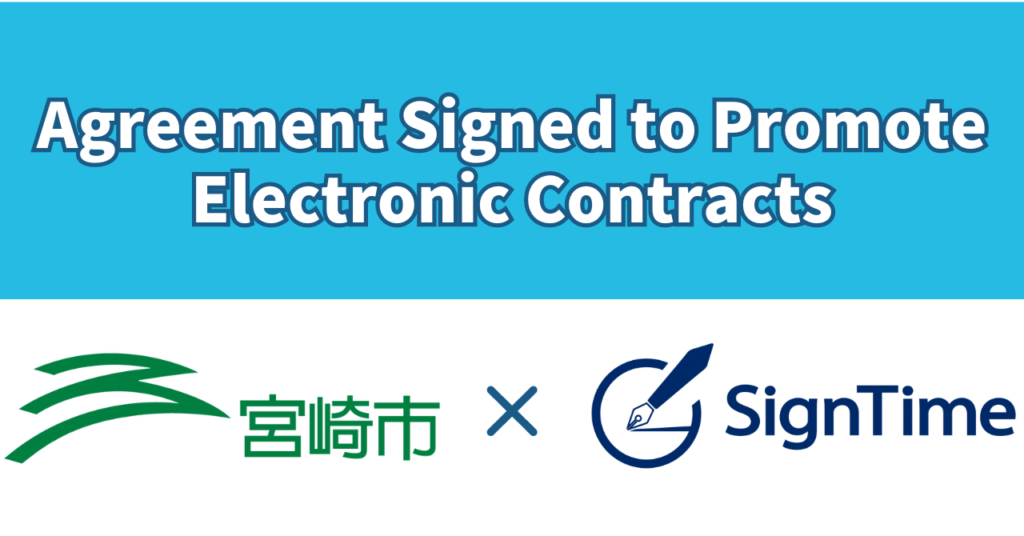 Comment from the Miyazaki City Contracts Division:
We are delighted to enter into an agreement with SignTime to advance our local DX initiatives. By utilizing SignTime's services alongside local businesses, we expect to establish smoother collaboration. Initially, we plan to introduce electronic contracts for construction bidding projects. Although we receive support from approximately 1,200 companies for construction projects and 400-500 companies for construction consulting contracts, only a dozen or so have adopted electronic contracts with Miyazaki City to date. With the signing of this agreement, we hope to accelerate the adoption of electronic contracts and contribute to reducing the burden on local businesses.
Going forward, Miyazaki City will continue to promote the digitization of contracts in other fields, as well as various applications and registrations, aiming to create a more convenient and open community for its residents and local businesses. We will leverage the expertise of private-sector partners through public-private collaboration to provide enhanced public services.
In the future, we will closely collaborate with Miyazaki City to support the productivity improvement and cost reduction of local businesses through the utilization of electronic contracts. We will also work in collaboration with system integrators within Miyazaki City to enhance the convenience of various application procedures for residents and contribute to the smooth advancement of local DX initiatives.
About the Adoption of Electronic Contracts in Japan:
In Japan, the digitization of contracts has been advancing, led by ministries such as the Ministry of Internal Affairs and Communications, the Ministry of Justice, and the Ministry of Economy, Trade, and Industry. Companies and organizations are currently focusing on compliance with the amended Electronic Bookkeeping Law, which will come into effect in January 2024. SignTime is a certified provider by the Ministry of Justice and offers services compliant with both categories of the Electronic Bookkeeping Law. Many of our customers are unsure where to begin with their paperless initiatives, and we provide tailored solutions by not only offering online support but also conducting onsite inspections to assess the actual paper documents in use.
About SignTime:
SignTime provides an easy-to-use electronic contract service that prioritizes customer feedback. It was developed by engineers from Silicon Valley with expertise in electronic contract services, in collaboration with a Japanese planning team. With its user-friendly interface, rich features, and flexible customization options, SignTime is used for OEM purposes and integrated with various systems. In addition to direct sales, it is also utilized as a functional component in partnership with other companies.
Service Website: https://www.signtime.com
[Media Contact for This Matter]
SignTime  – Futawatari and Tamura
Please contact us from here.